Discover more from Tripe + Drisheen
Slow news is good news! An independent, in-depth local journalism newsletter from Cork, direct to your email inbox. Subscribe to support us and help pay for our work.
Over 1,000 subscribers
What's the story with 4 and 5 Fr Matthew Quay? It's... complicated. And never ending.
The former corn store has been empty for decades. For the last two years it's been on Cork City Council's Derelict Sites Register. What gives, and who knows?
Facts first
In the beginning, around 1850, the buildings at 4 and 5 Fr Matthew Quay were used as a store downriver from Beamish & Crawford, just below Parliament Bridge, back when sail ships still traversed up the River Lee and docked in the city centre quays.
In its appraisal of the building, the National Inventory of Architectural Heritage said the building was a "highly important early nineteenth-century industrial building which is lent even more significance as the largest surviving corn store within the city".
But for decades, 4 and 5 Fr Matthew Quay have been empty and an eyesore. It's mostly used now for graffiti artists to leave their mark. The ground floor is boarded up; it's monitored round the clock by CCTV according to signs on the building. If anything, it looks like the sick man of a Celtic Tiger hangover.
Since 2021, the significant site has been on Cork City Council's Derelict Sites Register (DSR). This entitles the City Council to slap the owners with a 7% levy of the building's value, estimated at €1.5 million. (According to the Journal, the levy continues to apply until the site is no longer deemed derelict while unpaid levies attract interest of 1.25% per month.)
A quick back-of-the-envelope calculation, and in theory, the City Council should be collecting over €100,000 a year for a building that is effectively a dead space and has been for decades.
Council figures released earlier this month in response to questions from Cllr Thomas Moloney revealed that Cork City Council collected €281,565 in levies from 57 properties in 2022. This year it has collected €84,672 on 61 properties levied. Something is clearly not adding up.
The Council doesn't reveal which owners on the DSR pay or don't pay, and the McCarthy family, who own 4 and 5 Fr Matthew's Quay, did not disclose to Tripe+Drisheen whether they had paid the levies.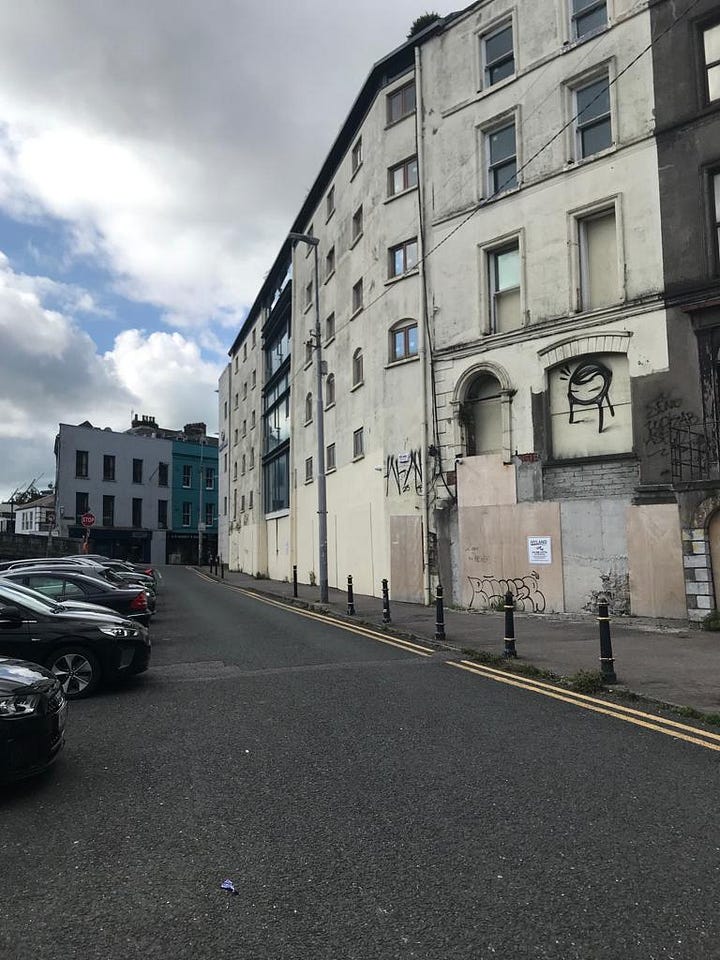 Plans
On the DSR, Tumblegate Limited is listed as the owner of the Fr Matthew Quay site. The Company Registrations Office lists three directors of Tumblegate: Thomas, Fergus, and Michelle McCarthy. Previously, Thomas McCarthy owned the Kingsley Hotel, which was sold to the Kang family in 2013 for €6 million after it was extensively damaged in flooding in 2009.
During the Celtic Tiger era, Thomas McCarthy had plans for the Fr Matthew Quay site. In fact, according to public documents, in the early 2000s, plans were well advanced to turn the quay building into a 'mixed-use development' that comprised 'a bar and restaurant, offices, and apartments over the five floors of the building.
In the mid-2000s, new windows and a roof were added to the quay site, but then came the economic crash and the flood on the Lee Road. The quay building, which is buttressed by the Bank of Ireland, has effectively been in limbo since then, with the only notable addendum being its addition to the Derelict Sites Register.
However, even with its inclusion on the dereliction register and the fines arriving like clockwork, this does not guarantee an outcome anytime soon. Some buildings on the City Council's Derelict Sites Register have been there for decades. At least in the case of the City Council, we have an inventory; the County Council still doesn't have a publicly accessible database of derelict sites.
When Tripe + Drisheen contacted Sandra McCarthy, she spoke willingly about the site her father owns but told Tripe + Drisheen that, at the moment, the McCarthy family would not like to go on record about the building or their plans for it. She also did not confirm whether they had paid the significant levies handed down by the City Council.
John Crotty, a vacant homes officer with Cork City Council, in response to questions about the Fr Matthew Quay site said it was "accruing the associated levies."
He added that, "Cork City Council is utilising all available options to remove dereliction on the property. Cork City Council is in contact with the property owners, having outlined all available options. The property has been included in Cork City Council's most recent application for Urban Regeneration and Development Fund (URDF) Call 3, currently under review by the Department of Housing."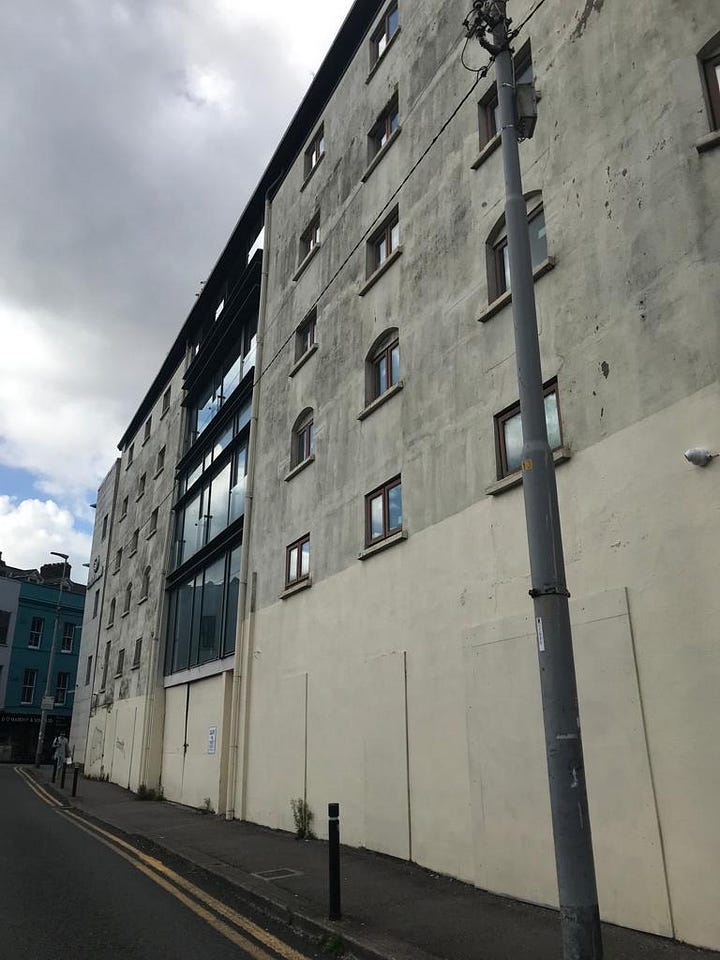 Use it or lose it?
Critics of the City Council and the government's approach to dereliction, such as Jude Sherry, a co-founder of Anois, point out that the only way to deal with properties such as the Fr Matthew Quay site is to adopt a 'use it or lose it' approach.
It's a tactic as straightforward as it suggests.
Ms. Sherry was forthright in her assessment of the situation with the Fr Matthew Quay site, describing it as a 'ridiculous waste, an eyesore, and vandalism of priceless heritage.' She added that ideally, it could be resolved through a 'use it or lose it' policy.
The building featured on Anois' dereliction tour of the city a few years back.
"The council has a policy of CPO'ing buildings after two years," Ms. Sherry added, referring to the seldom-used practice of compulsory purchase orders.
"They can enforce that now," she said by email.
Green Party Councillor Oliver Moran arrived at the same conclusion: levy it or CPO it.
However, policy and legislation are two different things, and CPOs are costly and time-consuming.
Cllr Moran did accept that 'action on derelict sites is tortuously slow," but said that a Council budget meeting this week, "there were signs that there is going to be a step-change in 2024.'
"The reason I point to the budget is that old phrase: 'Show me your budget, and I'll tell you your policies.' It's one thing to say what you want to happen; it's another to put a confirmed money figure beside it," he said.
That money is going to staffing the City Council's vacant and dereliction office.
"This year a dedicated unit was set up to tackle dereliction in the city. That change can be seen in the figures being allocated for enforcement of vacant and derelict properties. In 2023, the budgeted amount was €24,000. That will be €175,000 in 2024, almost all of which will be pay.
"Staff resources are needed because a reason given by officials is that each site involves its own history, which can include financial and legal difficulties, which are painstaking to work through. The intention with the new unit is to more aggressively go after levies and bringing properties back into use."
Dereliction
Dereliction does not exist in a vacuum, as Fearghal Reidy, director of strategic and economic development for Cork City Council, outlined in an interview with Tripe + Drisheen when we launched over two years ago.
As Mr. Reidy explained back then, a property falls into dereliction for a wide range of reasons.
"A lot of them are very personal to particular families or circumstances. Sometimes it might be developers hoarding sites, and then there might be just a range of other reasons."
Not much has changed since then, except that Cork City Council has worked to put more properties on the DSR and has bolstered its staffing to tackle vacancy and dereliction.
For Nos 4 and 5 Fr Matthew Quay, it's worth looking at a building just next door, but also more widely at Morrison's Island, to gain an understanding of what might be at play when it comes to figuring out why a substantial building just behind South Mall can remain undeveloped for decades, especially in the midst of an accommodation crisis, and when a new hotel is being developed on the same quay.
No 7 Fr Matthew Quay, a Georgian townhouse, has been up for sale for years, with a large banner hanging across the front of the building advertising the sale.
The estate agent does a decent job with the hard sell, but it's a tough sell when your second-next-door neighbour is a derelict site.
On its website, one point in the description of the building and the area by Casey & Kingston, the estate agent, is telling:
"In the centre of the proposed €6m Morrison's Island Public Realm and Flood Defense Project, which will significantly enhance the area."
In 2018, Cork City Council published a lengthy document outlining the Morrison's Island Public Realm and Flood Defence Project.
In it, they detailed their plans for moving beyond the current use of the quays as one long car park. The intentions are worthwhile: the city's quays could be more like Pope's Quay, where chessboards and public seating have been installed, creating a space for people and culture rather than just parking your car.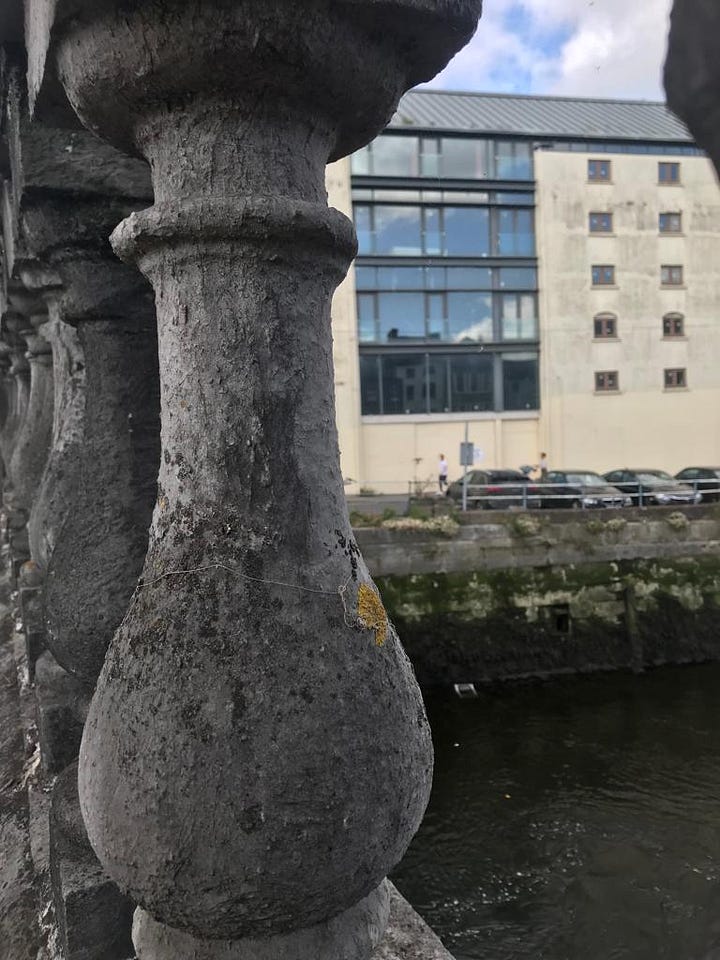 The Council blueprint stated: "These quays are currently dominated by parking and are underutilised as a city centre river amenity."
Fast forward, or rather, crawl forward five years, and nothing on Morrison's Island has changed. Largely, this is because of a court battle over the second part of what's at play in the Council's plans for Morrison's Island and indeed our flood-prone city: how to protect Morrison's Island and the rest of the city centre from flooding.
This battle largely falls into two camps: the OPW and Council-backed flood walls on one side of the debate, and campaigners such as Save Cork City, who believe the answer lies not in barricading the Lee off, but rather out at sea, with flood defences.
To return to the headline: could the answer to 'what's the story with Nos. 4 and 5 Fr Matthew Quay?' be found here, with the McCarthy family waiting for Morrison's Island to get its flood defence before committing to a grand plan? Again.
Meanwhile, the City Council already has a grand plan, but nothing to show for it as of yet.
All the while, a storehouse built more than 170 years ago lies idle, with levies mounting up and the Lee flowing by.
---