Discover more from Tripe + Drisheen
Slow news is good news! An independent, in-depth local journalism newsletter from Cork, direct to your email inbox. Subscribe to support us and help pay for our work.
Over 1,000 subscribers
The Friday View 03/11
A new greenway, a junket to Shanghai, a bypass complete and music fundraisers for Palestine. It's the Friday View.
On November 15, the Irish Journalism Awards will take place in the Mansion House in Dublin. On the night, journalists and editors form across the country will be awarded for their hard work and reporting across 24 categories. Absent from that list, which includes everything from best crime and foreign coverage reporting, podcasts, headline of the year and investigative journalism, is an award for local journalism.
If the premier print and digital journalism shindig in the country doesn't even include a category for local journalism it gives you an idea the regard for local journalism. What's worse is that the awards is sponsored by NewsBrands Ireland - an industry lobby group - and "supported" by Google News Initiative.
As with many things in Irish life, there was a schism and Mediahuis, the owner of the Independent and many local publications including the Corkman and the Kerryman, split from the awards. RTÉ is also not in the awards.
Journalists and especially those in lobby groups such as NewsBrands and the tech bros at Google News Initiative will tell you all day long that "journalism matters" especially local journalism. True that. And yet, when given the chance to highlight some of the outstanding local reporting from across the country, NewsBrands opts not to? Spare me.
So often stories that first appear in local publications which are reported on by local journalists are picked up by the nationals and given greater prominence. We've seen that here at Tripe + Drisheen plenty. That's good. News travels, as it should.
That said, best of luck to all those who are nominated.
-JJ
---
Tweet of the week
Photographer Cathal Noonan snapped this pic of the County Hall earlier this week when it was shrouded in fog with a drone high above his home in Victoria Cross. Cathal regularly posts pictures he takes around Cork on X. More information here on his website.
News in brief:
Greenway: The new pedestrian and cycle access route from Grange/Frankfield opened for business and pleasure this week and plenty of people have been getting out on the path which crosses over the N40 on the new Mount Vernon Bridge and into Tramore Valley Park, the biggest park in Cork city. What it means is that a lot more people will be able to access the park without having to get in a car first. Hurray for that.
One thing that's not likely to change is that Tramore Valley Park will not be getting an outdoor recreational area with swings and slides etc. as the City Council want to keep the emphasis on biodiversity in the park and letting people create their own fun.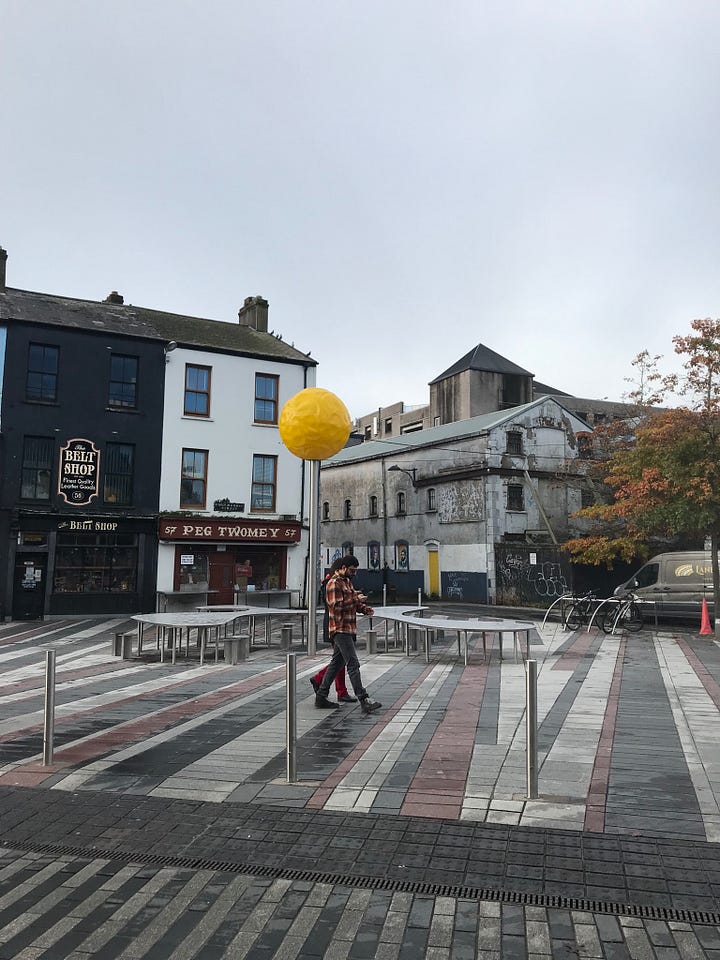 An urban mirror: The latest installation as part of Island City from Failte Ireland and supported by Cork City Council is the "Urban Mirror" on the Coal Quay. There's a big yellow lollipop in the middle of it if you're looking for it. So far, the City Council have not released a press release, but one local publication called it "a huge 50-seater community table". Who needs press releases? The piece by plattenbaustudio could seat 50, but there are only a handful of seats as part of the installation. Perhaps, the City's press release will tell us more when it comes.
Shang-hi: The Lord Mayor of Cork city and the Chief Executive of the City Council are leading a junket to Shanghai in China this week where they will do the usual pressing of the flesh and establishing ties. Shanghai is twinned with Cork city. The delegation which also includes Cork Chamber boss Conor Healy and councillors Kenneth O'Flynn (Independent) and Derry Canty (FG) will also visit Wuxi.
Bypassed: The final piece of the Macroom bypass, which will take traffic around Baile Bhuirne, will open on Monday, November 6. For the past year, thousands of cars and lorries have been taken out of Macroom with the opening of first stage of the €280m bypass. Work began on the bypass in January 2020. The Taoiseach Leo Varadkar is expected to officially open the new road.
My Library, all day long: Blackpool Library joined Glanmire and Douglas as the latest library to offer the "My Open Library" service. Essentially it means that users can access the library outside of the regular opening hours, and return and borrow books but also use the computers and printers. "My Open Library" libraries are open from 8am until 10pm but you'll need to do a short induction at your local library before you can avail of the service.
---
Out + About
Mimi Parker, drummer and vocalist in the hugely respected indie band Low, passed away last year. In a tribute to Parker on the anniversary of her death, Fuzzy Pockets are bringing together some of Cork's best musicians for a free but donations based gig. Andy Wilson, Twitcher, Flowers at Night, Shane Murphy, Kate Coppinger and Tomás O'Brien all play at The Roundy on Sunday, with all proceeds raised going to OvaCare.
Time, date, place: 6pm, Sunday November 5, The Roundy, Cork.
Local artists Ciara Rodgers and Fiona Kelly explore dereliction, waste, sustainability and ecology at Cork Printmakers this month with Urban/Field. Featuring sculpture, print, photography and drawing, Rodgers' work uses polaroid to document vacant and disused space to highlight how "the built environment has both a direct and indirect effect on physical senses". Kelly's work uses foraged waste made up of both natural and man made debris, which are "altered and arranged to narrate human interactions with land and a demarcation of time."
Time, date, place: Monday-Friday, 10am-1pm, Friday October 27-Friday November 24, Cork Printmakers, Wandesford Quay, Cork.
Stop Making Sense is a cult concert film starring Talking Heads and their lead singer, David Byrne,as well as his famous square suit. Regarded as one the greatest ever concert-films, it is newly restored and returning to cinemas for a re-release to co, with the Triskel screening it from Sunday until Wednesday. Tickets and information here.
Time, date, place: 4:15pm, Sunday November 5, 8:15pm, Monday November 6-Wednesday November 8, Triskel, Tobin Street, Cork.
A triple bill of some of Ireland's best emerging young musicians takes place at Levis' on Saturday. Molly O'Mahony is a singer-songwriter from West Cork, who recently released her debut album 'The House of David', described by Hot Press as "mingling romantic vignettes with loving dedications to platonic friendships, sibling adoration and familial loyalty." She is joined by two indie-pop musicians from the North; Ferna, who won the NI Music Prize in 2022 for Single of the Year with her first official release, 'Wasting', and Sasha Samara, who won an NI Music Prize for Best New Artist in 2020. Tickets and information here.
Time, date, place: 8pm, Saturday November 4, Levis' Corner House, Ballydehob.
Tchaikovsky's Swan Lake is probably the most famous ballet of them all. Cork City Ballet turns thirty this year, and you can get to see them perform it this weekend at Cork Opera House, in what they say will be a spectacular performance, with alluring and interesting costumes and sets. Tickets and information here.
Time, date, place: 8pm, Friday November 3-Sunday November 5, Cork Opera House, Emmett Place, Cork.
Two different gigs are happening in Cork tonight to fundraise for aid for the situation in Palestine. The Kabin are hosting Gig for Gaza, a gig marathon at their studio, in support of children in Gaza, from 2pm to 2am. It includes performances from Stevie G, Dylan Brickley, Misneach Girls, Myles Gaffney and Creative Tradition, with all proceeds going to the Palestine Children's Relief Fund. Meanwhile, Plugd are also hosting a fundraiser, Music for Palestine, featuring Maija Sofia, Elaine Malone, Elaine Howley & Cathal MacGabhann, and Ruairí de Búrca, with all proceeds going to Medical Aid for Palestinians.
Time, date, place: 2pm-2am, Friday November 3, The Kabin Studio, Harbour View Road, Hollyhill, Cork.
7:30pm, Friday November 3, Plugd Records, Cornmarket Street, Cork.
---
On T+D this week:
On Wednesday, we reported on the future of Live at The Marquee and what that might look like. Or not.
On Thursday, JJ reported on the "compromised" X account belonging to acting boss of Cork County Council. No details of how her account was compromised, or since when were released, but as of this week it has been wiped clean.
That's it for this week's Friday View.
Any tips, news or events you'd like to share with Tripe+Drisheen, you can contact us via at tripeanddrisheen@substack.com. We are always happy to speak to people off the record in the first instance, and we will treat your information with confidence and sensitivity. Get in touch. Have a lovely weekend. We will!
From the archive: