Discover more from Tripe + Drisheen
Slow news is good news! An independent, in-depth local journalism newsletter from Cork, direct to your email inbox. Subscribe to support us and help pay for our work.
Over 1,000 subscribers
In Pics: Michael Collins statue unveiling
A new Michael Colllins statue was unveiled on Grand Parade in Cork City at lunchtime in front or a crowd of hundreds which included the extended Collins family
After nearly one hour of speeches, which were mostly impossible for everyone but the VIPs to hear, Ronan O'Gara, Rena Buckley, and Jimmy Barry Murphy, along with a media scrum, unveiled the newest Michael Collins statue to great excitement on Grand Parade in Cork City.
Sculpted by Kevin Holland, it's the second Collins statue from Mallow-based Holland - he was also responsible for the Clonakilty Collins statue erected in 2002.
The statue was commissioned and paid for by the Michael Collins 100 Committee, who raised over €100k to complete the project. Both ministers Michael McGrath and Simon Coveney were in attendance for the hour-long event, which included a song from John Spillane before the unveiling.
Former GAA All-Star Rena Buckley told the crowd that like Collins she too came from a modest background but through the institutions of the state was given ample opportunity to thrive. Hurling legend Jimmy Barry Murphy recalled how Collin got involved in GAA as teenager in London, but while he didn't excel on the playing field he transformed the course of Irish history.
Ronan O'Gara sensing the crowd were weary from the speeches, kept his short and sweet and somehow forgot to mention Michael Collins, but, maybe that was because as he told the crowd, "Tá ocras orm." (I'm hungry).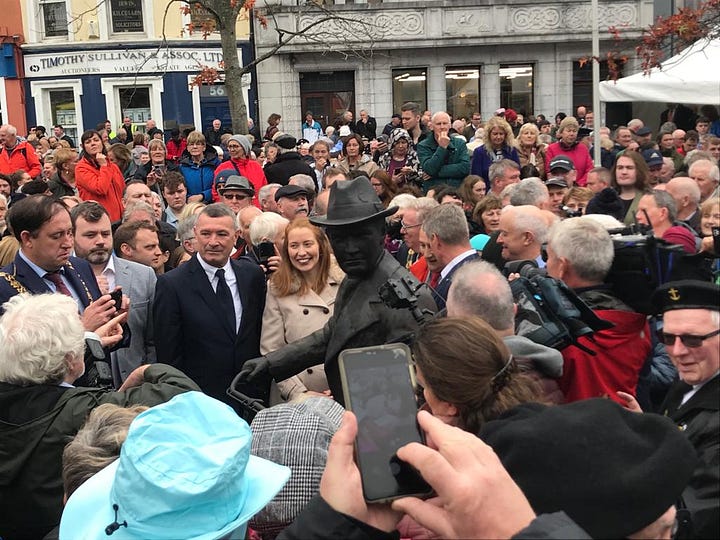 We have an short interview with Cllr Shane O'Callaghan (FG) whose motion in September 2022 helped kick start the process to get the Collins statue on Grand Parade. You can read that In the Friday View below: