Discover more from Tripe + Drisheen
Slow news is good news! An independent, in-depth local journalism newsletter from Cork, direct to your email inbox. Subscribe to support us and help pay for our work.
Over 1,000 subscribers
The Friday View 20/10
After a week of flooding and torrential rain, a new statue of Michael Collins on Grand Parade, and National Harp Day is this Saturday
Patriot. Leader. Statesman. And A Cyclist.
At lunchtime today on Grand Parade, a few yards from where a disused public toilet once stood, a brand new sculpture of Michael Collins will be unveiled. The statue by Mallow-based Kevin Holland was commissioned and paid for by the Michael Collins 100 committee. Tim Crowley and Traolach Ó Donnabháin form the 100 Committee were also the driving force behind another Michael Collins statue unveiled in Clonakilty in 2002, also sculpted by Holland.
I had a brief word Cllr Shane O'Callaghan (FG) yesterday as it was his motion from September 20222 that finally put the pieces in place for the 100 Committee to drive on. He failed in his first attempt in late 2020, but there was near unanimous support for the motion when it went a second time. As Cllr O'Callaghan told me, the statue is very close to the spot where in March, 1922 Collins made an election speech to 50,000 people. A few months later he would be shot dead.
I dropped by the statue yesterday evening, it was still under wraps waiting for its big moment today when Ronan O'Gara, Rena Buckley and Jimmy Barry Murphy will be on hand to unveil it.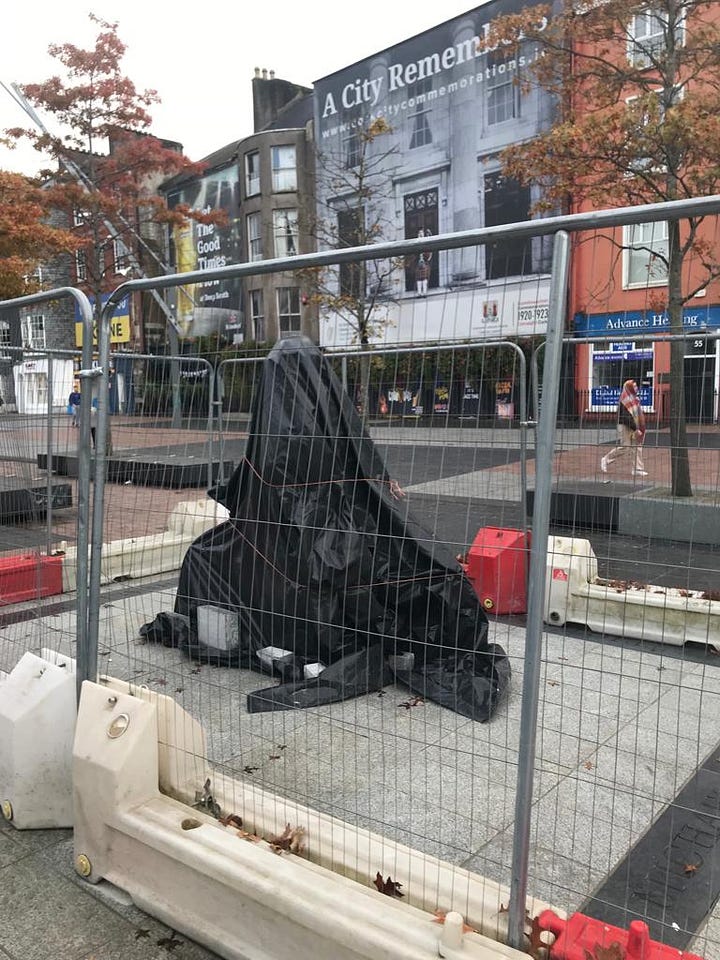 Cllr O'Callaghan said the Committee raised in excess of €100k, and as he said it hasn't "cost the tax payer a penny," adding that he was thrilled that everything is in place for today's unveiling ceremony.
"He's the outstanding figure of the Irish revolution," Cllr O'Callaghan said of Michael Collins.
"He's our national hero. In his short life he laid the military resistance to British rule, managed the finances of the outlawed Dail government and then played and extended role in negotiating the Treaty establishing an independent, democratic Irish state all in the space of 31 years."
Interestingly, the statue will depict Collins holding a double-crossbarred bike and is based on a famous photo of the "Big Man".
Cllr O'Callaghan outlined how the bike was a trusty method of transport to slip around Dublin and indeed the country "hiding in plain sight" during the War of Independence.
"I suppose it's also good in this day and age, in terms of the the creeping awareness from the environmental point of view and the need to encourage people to cycle. There's arguably no more famous image of an Irish person on a bicycle," Cllr O'Callaghan added.
To which I asked Cllr O'Callaghan if the new statue might inspire more of his peers on the Council and in the Council Executive to cycle.
"Possibly, yeah," he said.
The statue unveiling will take place at 12pm today on Grand Parade near the City Library.
-JJ
---
News in brief:
After the deluge: Taoiseach Leo Varadkar was in Midleton yesterday to survey the flood damage and pledge support for those who were literally washed out by the torrential rain that fell over the course of Storm Babet. Midleton and other parts of the county were inundated by the volume of rain that fell. As of this morning, Cork County Council was still issuing press releases regarding the overnight rainfall and the possibility of more flooding in Midleton. A subsequent press release asked for people to avoid travelling to the town centre.
The Taoiseach spoke of humanitarian aid for those affected and also the need for flood defences, something which every town and city in Ireland needs to consider. The climate crisis has forced our hand on this, and the only thing we can be certain of is that the scenes from Midleton we saw this week will be replicated across the country.
---
Out + About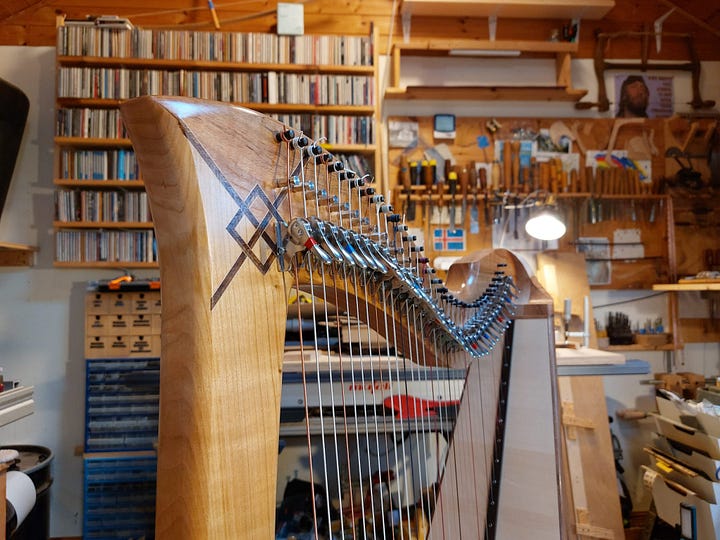 The seventh annual LÁ NA CRUITE│HARP DAY 2023 takes place this coming Saturday and it will celebrate the 1000-year-old Irish harping tradition, a tradition recognised on UNESCO's List of Intangible Cultural Heritage of Humanities. At Cork City Library, harpers and poets will celebrate the ancient bardic tradition that brings both performers together. Damhnait Sweeney and the Glissando Harp Ensemble, alongside poets Mary Noonan and Dean Browne and Eimear McDonagh, Ruth Mc Donnell & The Glissando Trio will perform at 2pm in this free event at Cork City Library. You'll also have the chance to meet harp makers such as Kevin Harrington of Harrington Harps, a skilled craftsman based in Cork city.
Time, date, place: 2pm, Saturday October 21, Cork City Library, Grand Parade
Out at Togher Community Garden, they'll be hosting two free workshops for all those interested in learning more about gardening, and especially about making the most of what's freely available in nature, and that is leaves and seeds. First up is Donal O'Leary who will be showing attendees how to make leaf mould. Given the volume of rain that has fallen this week, leaf mould can help do a small bit by improving water retention in soil. It also helps with soil nutrition.
Following on from Donal's workshop, Hazel Hurley (appropriately named) will be leading a workshop on collecting and processing Irish seeds. Both workshops are free and take place in the beautiful surroundings of the community garden. Boots or wellies are advised, as it's wet out in the fields there.
Time, date, place: 11am-1pm, Saturday October 21, Togher Community Garden, Clashduv Park
Youghal has a rich and vibrant history, from the times of Sir Walter Raleigh to the filming of Moby Dick. Youghal Celebrates History is an annual conference which does exactly what it says on the tin and takes place tomorrow. As part of the conference will be lectures about Youghal's medieval walls, rebellions against the Munster Plantation, and the War of Independence around Youghal. Tickets and information here.
Time, date, place: 9am, Saturday October 21, Mall Arts Centre, The Mall, Youghal
Cork Repair Café is an event that usually takes place once a month, where people bring broken items and learn how to fix them. 'The Greenest Toaster is the One You Already Have' is their motto this week, when they go to Rebel Reads on Sunday for International Repair Day. Why waste money on a replacement when you could just do it yourself?
Time, date, place: 2-5pm, Sunday October 22, Rebel Reads, Marina Commercial Park, Centre Park Road, Cork
I Dreamed I Dream are an exciting local band comprising five local 'beours', who play a shoegaze and dreampop influenced style with feminist lyrics. Following their launch of their debut single 'Apparition', and their 'Why Say A Lot?' EP yesterday, they play their first Cork headliner at Seanie Buttons Presents in the Green Room. Support comes from Inchworm, an indie-folk band led by local musician Sam Cullen.
Time, date, place: 10pm, Saturday October 21, The Green Room, Cork Opera House, Half Moon Street, Cork
Mamacha are a band with an international array of personnel, from Hungary to Mexico, via Ireland, who formed in West Cork two years ago. The name comes from the Bolivian word for woman, and they celebrate the 'healing force of feminine energy'. They play Connolly's of Leap on Sunday, tickets and information here.
Time, date, place: 7:30pm, Sunday October 22, Connolly's of Leap, Leap.
Folk legend Mick Hanly has played in bands with Andy Irvine, Dónal Lunny and Mícheál Ó Domhnaill, as well as having his songs covered by Christy Moore, Mary Black and Dolores Keane. He is in Mitchelstown this weekend, and will play some of these songs in Saint George's Heritage and Arts Centre on Saturday. Tickets and information here.
Time, date, place: 8pm, Saturday October 21, Saint George's Arts and Heritage Centre, Mitchelstown.
The Unscene are an alternative music collective based in Limerick, but they've gone a small bit southwards for their latest show in Plugd, featuring London musician Bea Brennan. Her music is described as 'ethereal & psychedelic, yet grounded in a wonderful reality'. She is supported by two electronic musicians, Oootini and Bill Karnation. Tickets and information here.
Time, date, place: 7:30pm, Sunday October 22, Plugd, Cornmarket Street, Cork
Prim's Bookshop in Kinsale has established itself as a good spot for gigs in the past year, with Book'd featuring bands like M(h)aol, Pretty Happy, The Love Buzz, amongst others. Tonight, Autre Monde, from Dublin, are the latest band to play in the cosy surroundings of Prim's. Featuring Paddy Hanna on vocals, Mark Chester on guitar, Padraig Cooney on bass and Eoghan O'Brien on drums, they have been described by the Irish Times as "Sophisticated, slick and thrillingly weird pop". Tickets and information here.
Time, date, place: 7:30pm, Friday October 20, Prim's Bookshop, Main Street, Kinsale
---
This week on T+D:
On Thursday, we reported on the City Council's flood prevention measure on the Glasheen River. Despite weeks of dredging the river, the Glasheen flooded during Storm Babet. What does the future of the river look like?
That's it for this week's Friday View.
Any tips, news or events you'd like to share with Tripe+Drisheen, you can contact us via at tripeanddrisheen@substack.com. We are always happy to speak to people off the record in the first instance, and we will treat your information with confidence and sensitivity. Get in touch. Have a lovely weekend.