Discover more from Tripe + Drisheen
Slow news is good news! An independent, in-depth local journalism newsletter from Cork, direct to your email inbox. Subscribe to support us and help pay for our work.
Over 1,000 subscribers
Back to the future as Cork city to hold first car-free day in 21 years
Kevin Long of Cork Cycling Campaign explains what a car free day is, how they came about and why they're actually good for business.
What is a car free day?
Car Free Days are streets closed to traffic and open to people. It is a popular and well-established means of bringing about change in how we view our streets.
The first car-free days began in the Netherlands in 1973 as a response to the Gulf Oil Crisis. In order to save fuel, the Dutch Government imposed car-free Sundays for three months from November 1973 onwards. The move was widely welcomed as people enjoyed the freedom of exploring their neighborhoods, city streets, and highways without cars.
In Bogota, Colombia, official car-free days are called Ciclovia and have been taking place every Sunday since 1982. Between 7 am to 2 pm, a network of city streets and highways is connected in a 120 km circuit that is closed to traffic and opened for people to walk, jog, skate, wheel, and cycle. The events are hugely popular, and it is estimated that around 600,000 to 1.4 million people participate in Ciclovia every Sunday.
In 2015, the Mayor of Paris, Anne Hidalgo, oversaw the introduction of Journee Paris 'Respire,' or Paris Breathes. Every Sunday, certain districts are closed to traffic, with the exception of local residents, public transport, emergency vehicles, and blue badge holders. Parisians and tourists are invited to 'Discover the city in a new light.' This event served as the catalyst for the current changes in the French capital, including radical transformations planned for iconic locations like the Champs-Élysées. The city now aspires to become '100% bikeable.'
Brussels held Europe's largest car-free day this year as part of EU Mobility Week. The entire city was closed to traffic, creating Europe's largest car-free zone on September 17, so that people can '(re)discover the pleasure of walking, cycling, using public transport throughout the region.' The Regional Minister for Mobility, Public Transport, and Road Safety (I wish we had one of those!) has expressed the desire to hold more regular car-free days in the future, noting 'we breathe easier, we see the city differently.'"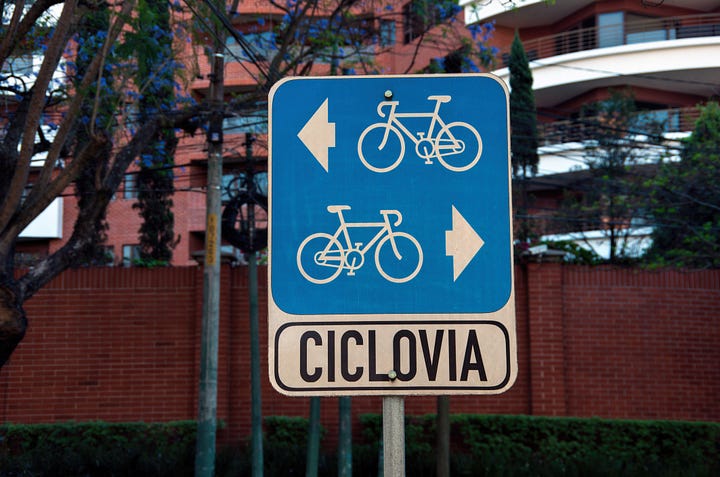 The Irish attempts
Closer to home, Dublin City Council has held car-free Summer Sundays as part of EU Mobility Week since 2019. College Green is closed to traffic, and councillors encourage people to come out and enjoy 'A space for kids, for walking, for cycling, and for a more inclusive, less hostile city center for people with disabilities.'
Dun Laoghaire-Rathdown County Council carried out a Summer Streets trial from July to September 2021. Several main streets in the town center were temporarily pedestrianised throughout the summer. An extensive survey was conducted, and the findings showed that permanent pedestrianisation was favored by 81% of residents and 67% of customers. In a detailed evaluation of the trial, which included an analysis of data on footfall, air quality, noise, and traffic, Dún Laoghaire-Rathdown County Council said the trial delivered "significant environmental and social benefits, which in turn supported some economic improvements locally".
Meanwhile in Cork
In Cork, we have some history with car-free days. Between 2000 and 2002, a car-free day was held each September as part of European Car-Free day, as it was known back then. This day saw participation from over 1300 urban areas across Europe and 10 Irish towns and cities, as they opened their streets to people, aiming to develop cleaner and healthier urban environments.
In 2003, the city council decided not to proceed with European Car-Free day, citing that city center trade was already suffering due to urban renewal schemes and main drainage scheme works, and that a car-free day would be unfair to them at this time.
Cork Environmental Forum (CEF) has been a long-time proponent of car-free days. The CEF organized the Rebel Pedal in 2000 to highlight European Car-Free day. It has evolved since then into an annual cycle from Fitzgerald Park, around the city, as a way to support EU Mobility Week and continue advocating for a car-free day in Cork.
The 2019 Cork Metropolitan Area Transport Strategy highlighted car-free days as a measure to bring about behavioral change in the transition to more sustainable transport modes. Car-free days are also supported in the latest 2022 City Development Plan.
In early 2021, during a regular monthly meeting of the Cork Cycling Campaign, a proposal was made to request the City Council to hold a car-free day in Cork for EU Mobility Week. Several elected representatives were approached for support, and a joint motion was proposed by Councillors Colette Finn, Dan Boyle, Oliver Moran, and Garret Kelleher.
As part of the Council's standard procedure, the motion was referred to the Corporate Policy Group, which decided to defer the car-free day due to the challenging year that city centre traders had experienced because of the Covid-19 pandemic.
Good for business?
There is a perception that car-free days will hurt businesses; however, there are many examples to show that the opposite is the case. In New York, an economic analysis of the NYC Open Streets program demonstrated a net increase in sales across all the Open Streets corridors. A 2019 study conducted by Transport for London highlighted that an additional £700,000 was spent in local businesses during the City of London Car Free day.
The Cork Transport and Mobility Forum maintained momentum for the initiative and brought together all stakeholders, including the city council, voluntary and community groups, business representatives, and coordinated with An Garda Síochána to begin planning for an eventual car-free day.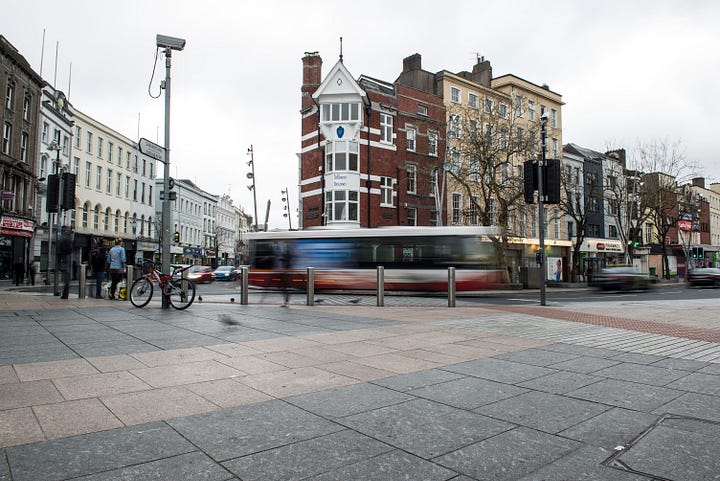 Finally, a car-free day in Cork city
This upcoming Saturday, September 23, will see a Cork Car-Free day for the first time in 21 years. It is important that city officials, councillors, business groups, and community groups come out in force and show support for this. Car-free days have become popular and regular occurrences in many cities, and there is no reason it shouldn't work for Cork too. There is plenty of evidence that car-free days are welcomed and popular and can have positive economic benefits. Car-Free days have a major role to play in bringing about the change in mindsets needed for the switch away from private vehicles to more sustainable and active travel.
We are very lucky to have a beautiful city center surrounded by a river and wide quays on all sides. We should be taking advantage of this setting to allow people the freedom and opportunity to enjoy and experience the city in a different way, hopefully for many more car-free days to come.
Cork Car Free Day will take place this coming Saturday, September 23 from 12pm until 6.30pm. The quays will be open to traffic as normal and street closures will be applied to Patrick Street, North Main Street, Cornmarket Street, Castle Street and Adelaide Street. Buses and taxis will be able to access Patrick Street as normal.
As part of Cork Car Free Day, Cork Cycling Campaign are organising a bike bus starting from six locations across the city and cycling to the city centre. More details here.
Kevin Long is the vice-chair of Cork Cycling Campaign and is currently researching a book on the history of cycling in Cork.
---