Discover more from Tripe + Drisheen
Slow news is good news! An independent, in-depth local journalism newsletter from Cork, direct to your email inbox. Subscribe to support us and help pay for our work.
Over 1,000 subscribers
More parks, bike lanes, pedestrianised and tree-lined streets and better public transport needed to fight climate change in Cork city
A new climate crisis-focused report released this morning from Cork City Council shows that while cycling and public transport are gaining ground, car is still king on Leeside.
A survey of 500 people conducted earlier this summer reveals that people in Cork city are overwhelmingly in favour of actions that would make the city greener, more liveable and ultimately more sustainable in the drive to combat climate change.
According to the report published by Cork City Council, 86% of people in Cork want more pedestrianised streets, 92% want more parks, biodiversity and green spaces in the city, 88% want more locally produced foods and 89% want more trees planted along city streets.
The survey, carried out by Behaviour and Attitudes, a private marketing firm for the City Council, found that 64% of respondents strongly agree that "Cork must transform into a more sustainable place to live and work that is climate neutral and resilient".
On taking public transport, or not
According to the Residential report, which will form part of the City Council's Climate Action Plan up until 2029, nearly 70% of respondents typically use a car to get around, with cycling at 12% and 38% taking public transport.
However, when it comes to public transport, the City Council's figures would suggest that the majority of those taking the bus or train are students, with approximately 55% of 16–24-year-olds in Cork using public transport on a weekly basis.
For commuting, the new research shows that 70% of respondents typically travel to work or school/college by car, while 38% use the bus, and 15% cycle; however, the sample size for this question was only 328 people.
Interestingly, the average commuting time in the city across the three categories is around 20 minutes, with the average commuting distance coming in at about 10km for all three categories.
However, the same report found that reliability (30%) was the main factor when it comes to enticing more people onto public transport. Coming in second place was a total lack of services, at 20% (stretching to 36% in the Northside of the city), while just under 20% said the frequency of services was the main impediment to using public transport.
One positive aspect for the City Council and the National Transport Authority is that 60% of weekly bus and train users indicated that the service has improved in the past 12 months across fares, frequency, reliability, and speed of travel. However, the sample size was less than 400 people.
To bike or not
While the City Council has installed a network of cycle lanes since the Covid-19 pandemic, the local authority still has a considerable way to go to get more people on the bike in Cork City. 
The survey found that 26% of respondents cycled, with 12% doing so on a weekly basis. However, the main barriers to cycling more frequently are related to cars: nearly 30% of respondents said they felt unsafe cycling beside road traffic, while 15% said the lack of segregated cycle lanes throughout the city was a key factor for not cycling.
Understanding climate change and its impact
When it came to the question of climate change, respondents were unequivocal, with 88% of those polled (509) reporting that "Yes, it is happening," and 80% reporting that the climate crisis is already having an impact on the city.
Sticking with straightforward questions, pollsters gauged understanding of key climate concepts through a set of questions designed to gauge how informed people in Cork were on the meaning of 'carbon footprint,' 'biodiversity,' 'Net Zero Emissions,' 'Climate Neutral,' 'Tipping Point,' and other key terms commonly used when discussing the climate crisis.
Nearly 70% of respondents said they were very clear when it came to understanding what 'carbon footprint' means, while, on the opposite end, only 20% reported a clear understanding of 'Just Transition.'
When it came to supporting specific climate action policies, there was overwhelming support for actions such as more street tree planting, more parks and biodiversity, and prioritising food produced in Cork, as well as more pedestrianised streets.
Even a contentious issue, such as reallocating road space (including on-street parking spaces) to bus lanes or cycle lanes, had the support of more than 66%, split evenly between strong support and somewhat support.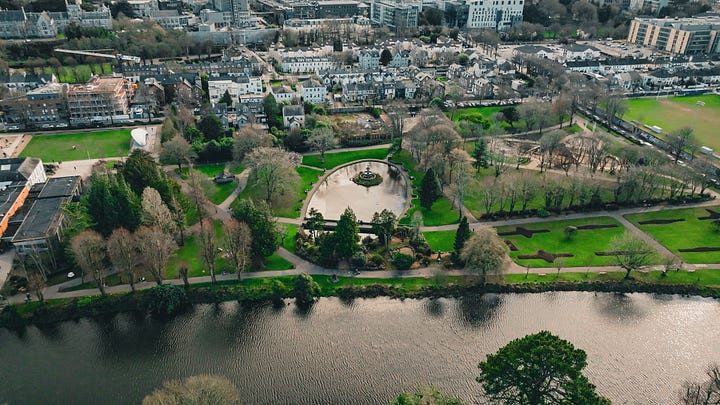 What's being said about the new report - councillors
Reacting to the climate study, Green Party Councillor Oliver Moran told Tripe + Drisheen that it was clear that there is a "mandate for change."
"That's both from the science and the willingness of people to change in answer to the science. The scale of that change, however, often takes people by surprise and will continue to. We've also got to make sure that people aren't disadvantaged by the change that happens. It's a better, as well as a more sustainable, city that we're aiming for," he said.
Cllr Moran added that "one of the most important messages to come out of the survey is that, even on the most contentious of issues, the vast majority of people are ready or willing," he said.
"That shouldn't be taken for granted. The example of BusConnects in the North East ward shows the value of engaging with communities and designing solutions with them. It's hard work but it shows that we shouldn't be cowed by the loudest voices, who believe they represent the majority, when often they don't.
However, Councillor Loran Bogue form An Rabharta Glas/Green Left said that it was hardly a surprise that "people in Ireland's most suburbanised city want better transport, civic amenities and a higher quality of life in general terms."
She took aim at the Chief Executive Ann Doherty, saying that "the fact that people want more services and quality from their local authority should not be used, as it has by the chief executive, to corroborate the fanciful idea that Cork's urban planning is achieving either social or climate goals."
Cllr Bogue added that the purpose of urban planning in Cork city "has been to position the concerns of developers, financiers and the construction industry ahead of the interests of people who work and live in Cork," and called on the City Council to focus on reducing "how much it costs for people to live and work in the city through provision of social housing and amenities."
Cllr Bogue highlighted the disposals of City-owned land in Bishop Lucey park and on the Coal Quay, adding that "both the executive and councillors prefer privatisation of public space over socially sustainable urban planning every time."
What's being said about the new report - sustainable transport advocates
"These numbers prove what everyone knew - better public transport is popular," Ciarán Meers, chair of the Cork Commuter Coalition told Tripe + Drisheen.
"Just as interestingly, they show that some of the fruits of the last few years' transport projects are starting to pay off. People are viewing bus services as higher quality, cycling at higher-than-expected numbers, and demanding more parks and better streets for them and their communities. It just makes sense to keep ahead on projects both big and small that are slowly transforming Cork for the better," he added.
Cork Cycling Campaign welcomed the report, that "it is more evidence to show that most people want the option to cycle safely in our city."
"It is up to our councillors now to help deliver what is needed to improve cycling safety for all ages and abilities. We cannot continue to have the safety of active travel projects watered down, schemes deferred or cancelled completely due to unfounded fears and continuing to prioritise the use of private vehicles," Kevin Long vice chair of Cork Cycling Campaign told Tripe + Drisheen.
The Third Pole has a comprehensive list key vocabulary to help you understand climate change here.

---