Discover more from Tripe + Drisheen
Slow news is good news! An independent, in-depth local journalism newsletter from Cork, direct to your email inbox. Subscribe to support us and help pay for our work.
Over 1,000 subscribers
A bike box goes up in Ballintemple, but Cork City Council says it must come down
Cork City Council has ruled that a bike box in the driveway of a private house on the southside of the city would "set an undesirable precedent for similar future developments in the area."
The O'Regan family, who live on Maryville in Ballintemple, are a one-car family. They also have a cargo bike and a bike box out the front of the house to store the cargo bike, as well as wheelie bins, and the kids' bikes and scooters.
So far, so suburban.
But, the bike box, which was made (very) locally just down the road in Benchspace, and which is topped with a sedum green roof, will have to go, as Cork City Council this week informed Denis O'Regan that it had failed a planning application for retention.
In its decision, which was handed down this week to Denis, the City Council ruled that the "design, scale and and location to the front of the dwelling constitutes visual clutter and represents a disorderly form of development which would have a negative visual impact on the character of the area.
"The development would also set an undesirable precedent for similar future developments in the area and would therefore be contrary to the proper planning and sustainable development of the area."
On the point of precedence, the City Council was largely in agreement with the sole objector who stated that if permission was granted "it would set planning precedent for unsuitable front garden developments."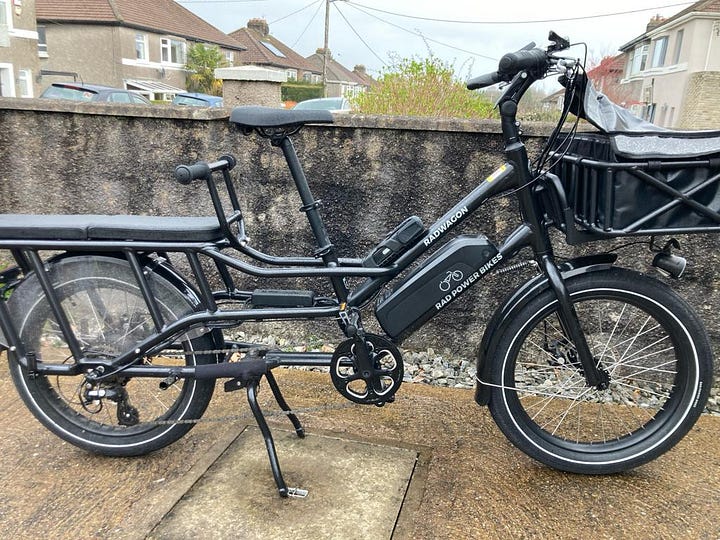 Ironically, the road that Denis lives on is cluttered with cars, which are routinely parked along the footpath to allow other drivers can get up and down the cul-de-sac which is close to Páirc Uí Chaoimh.
Denis freely admits that he did not ask for permission to erect the bike shed back in 2020 - but as he points out, there are plenty people in the area who have erected garden and Barna sheds to store bikes, wheelie bins and much else. It's unlikely that they went down the the route of looking for planning permission.
However, where Denis's bike box stands out is that it is at the front of his house, in his driveway, but not obstructing pedestrians, cyclists or cars.
Denis said that because access to his back garden is restricted - the path at the side of the house is too narrow - if he had placed the bike box in the back garden, he would not be able to get bikes or wheely bins through the path.
So instead, Denis bolted the bike box with its blackened larch cladding and topped with a sedum green flat roof to reduce rainwater run-off and improve biodiversity, into his driveway, and it's remained there for the past three years, serving its purpose, storing the family cargo bike, his kids' bikes and scooters and wheelie bins.
But now its days are numbered.
Denis plans to appeal the Council decision to An Bord Pleanála, which will cost in the region of over €600. He's also hoping that planning legislation being put forward by the Green Party designed specifically around creating exemptions for planning permission for bike boxes will get passed and help him and others, but that could be a ways off yet.
What most annoys Denis about the Council's decision is that in the middle of biodiversity and climate crisis, the City Council did allow for retention of a bike box for a private dwelling in Sunday's Well, some 13 years ago.
Denis told Tripe + Drisheen he would be happy to put up a screening - similar to the screening used on City Hall - around the box; he was hoping that the Council would come back to him with a request for further information (RFI) which he thought would help him get his bike box across the line and let him keep it.
But it wasn't to be.
On top of this, Denis thinks that the bike box goes some ways to aligning with the City's Development Plan (2022-2028) and getting more people to walk and cycle in its mission to create a 15-minute city and drive down transport emissions.
"Bikes have got bigger and more expensive with electric cargo bikes now a regular sight in the city," Denis told Tripe + Drisheen. "Unfortunately planning policy has not kept pace with the people who are committed to making a change."
In February of this year, Cork City Council installed two cargo bike boxes on South Mall and on St Patrick's Street. According to the City Council, "the two boxes installed will be used as part of a pilot scheme to gauge the demand for cargo bike parking in the city. Each Bike Box is capable of holding three cargo bikes."
Tripe + Drisheen have contacted the City Council to inquire if the bike boxes are open and the scheme is up and running.
As for Denis, it's back to the drawing board.
---