Discover more from Tripe + Drisheen
Slow news is good news! An independent, in-depth local journalism newsletter from Cork, direct to your email inbox. Subscribe to support us and help pay for our work.
Over 1,000 subscribers
Where mahjong meets hurling
Players from Canada, the US, Dublin, Cork, and Belfast converged at Blackrock National Hurling Club for the first-ever international mahjong tournament this past weekend.
The "Rockies," or Blackrock Hurling Club, are used to making history in Cork, at least, and it continued that tradition when it hosted the first-ever international mahjong tournament in Ireland this past weekend.
Despite there only being 16 players, it was a cosmopolitan bunch with players jetting in from across the Atlantic to join competitors drawn from across Ireland.
On the first morning of the tournament, outside on the pitches, an underage hurling championship was taking place. A lone bagpiper led the juvenile teams out. Back at the mahjong tables, the athletes hardly looked up. The room was hushed.
Simon Picard, a Parisian living in Mallow, was responsible for putting the tournament together. He likens the game to poker or rummy.
"It's about skill, but there's also a great deal of luck involved too," he told me quietly while keeping an eye on a timer ticking away on a computer. In front of us, a table was laden with crisps, tea, coffee, sparkling and still water. Ahead of them was a long, long day of games.
Simon was whispering to me from one end of the small room where three tables of four players each battled it out.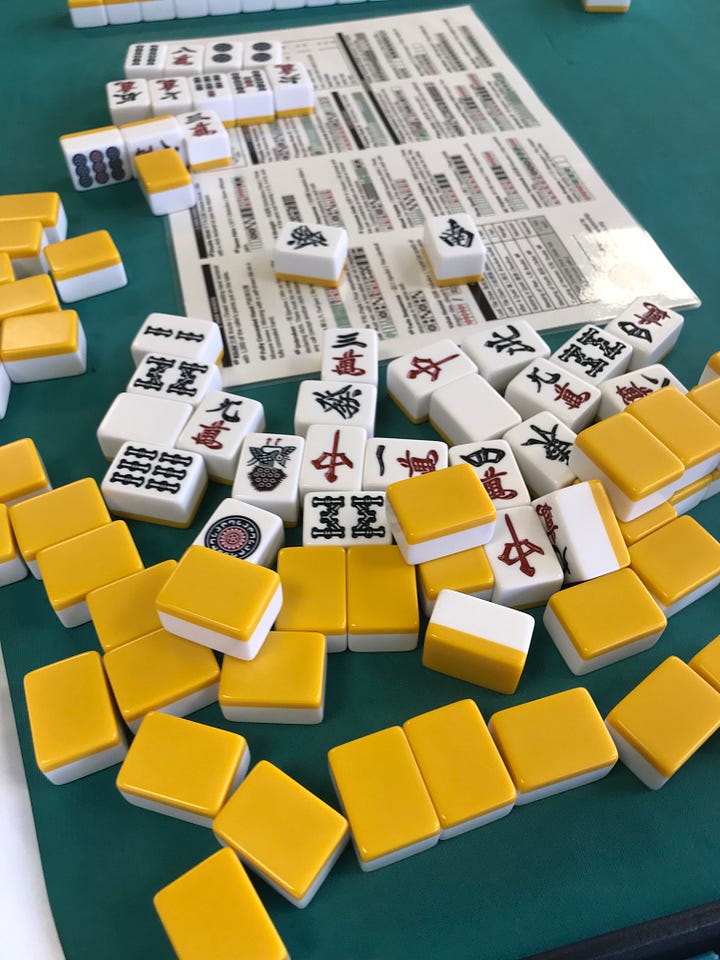 A game of skill and luck
To the untrained eye, mahjong looks complicated. It has a Scrabble feel to it as players go into battle with 132 tiles. The goal is to rack up points across consecutive games. Essentially, mahjong is about playing the long game.
While many people might be familiar with mahjong from the app games on their smartphones, Conor Mullin from Belfast, president of All-Ireland Mahjong, told me that the board game is not at all like the app version, where you simply try to create matching pairs. (Conor said more than one player has turned up in real-life mahjong meetups expecting to play a simple game of matching.)
Like many outside Japan, Conor got much of his initial playing experience of mahjong in online games. Still, most of his playing time now is at tables gathered with other players in cafes in Belfast.
When I lived in Japan and popped over to Osaka, depending on where I went to eat and drink, I would often see dingy, smoke-filled restaurants where the food and drink were cheap and cheerful, filled with older men battling it out at the mahjong tables. Although it originated in China, the Japanese version, also called riichi mahjong, is the most popular board game in Japan.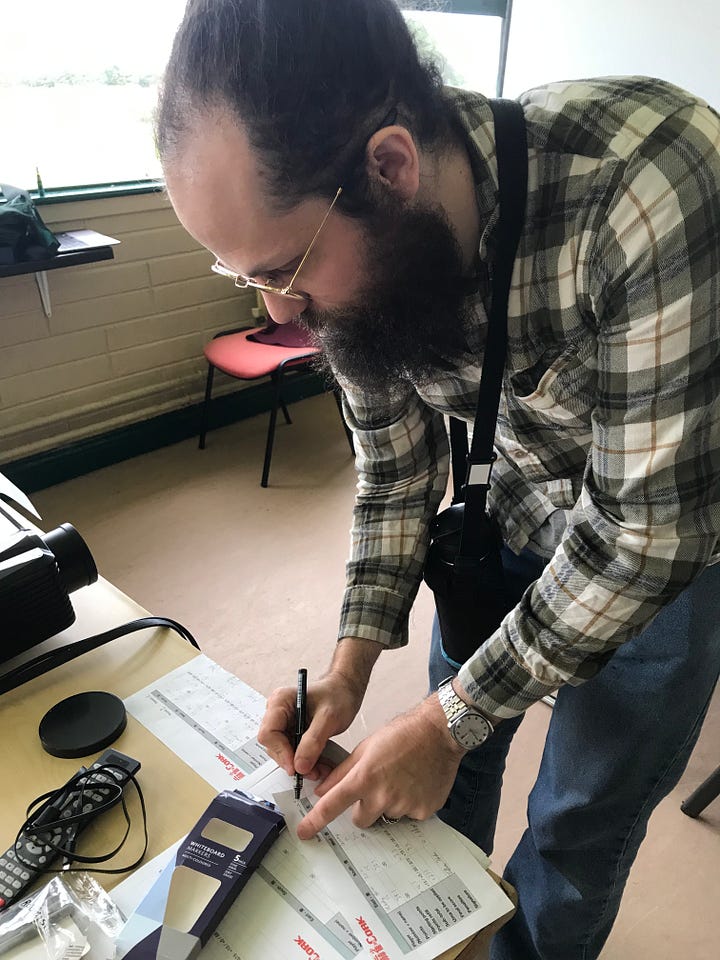 Simon, who's been playing mahjong for about 10 years, said there's been a push to expand the game to new audiences. Manga and anime have helped a little, but so too has a huge resurgence in boardgames thinks Conor.
According to Simon mahjong is great for the mind and the cognitive processes. He's played in Japan and at world championships and set up a Cork mahjong club in 2019. Covid interrupted much of their meet ups and game playing but they're back playing in Pa Johnson's and the Bodega on a near weekly basis.
For new players, they adapt their game playing so that everyone is made to feel welcome and gets a chance to play. "We love new players, and we want everyone to come regardless of age, experience and gender," he said, while acknowledging that at the moment it's more men that are showing up.
"Basically, it's a card game," said Simon. "It's very similar in mechanics to gin rummy." Good cards, or tiles help, but as he explained, "you have a number of mechanics that allow you to make good decisions."
How mahjong ended up in a hurling club
"I really liked the idea of a competition of a mind sport and bringing it to the same place such as here," Simon said, pointing to the pictures of Blackrock hurling legends that adorn the club walls.
"Foreign sports," as anything that wasn't a GAA sport, was once labeled, have a firm home in Blackrock: throughout the winter months, the Cork Renegades baseball team trains at the hurling club. Simon explained that Seiko Hayase, a Renegade who also plays mahjong, helped him land the hurling club as the venue for the first All-Ireland tournament. The club, he said, was very accommodating.
And with that, a timer went off, signaling the end of another game in the morning session, giving players a chance to get up and mingle and get to know each other before they would return to battle over the mahjong table.
You can find out more about playing mahjong in Cork and Ireland here.
---
Tripe+Drisheen is a reader-supported local journalism publication about Cork city and county. You can learn more about us on our About page here.