Discover more from Tripe + Drisheen
Slow news is good news! An independent, in-depth local journalism newsletter from Cork, direct to your email inbox. Subscribe to support us and help pay for our work.
Over 1,000 subscribers
Swift action needed
In Ballyvourney, a small yet dedicated group has installed Cork's first swift nest boxes into the newly constructed parochial hall. It's a modest yet meaningful action admist a biodiversity crisis.
The 10 small holes stacked in a triangular pattern high up on the gable end of the wall of the new parochial hall at Scoil Abán Naofa, Ballyvourney, are so unobtrusive that to most people, they might as well not exist.
However, this small but significant intervention in the new building could make all the difference in establishing a new colony of swifts, an extraordinary bird capable of covering the distance of flying to the moon and back three times over its lifetime. It could also be the key to slowly correcting the vast damage wrought on nature by human beings.
For the common swift, a bird that lives almost entirely in the air - eating, sleeping, and mating while in flight - modern Ireland has not been a welcoming place. Bird experts estimate at least a 40% decline in the swift population here between 1998 and 2010.
But the swift nest box project in Ballyvourney offers hope, according to Noel Linehan, a bird expert who took a chance when he got the principal of Scoil Abán on the phone back in October 2022.
As Noel told Tripe + Drisheen, he knew from travelling in the area that there was a new building going up. So he took a chance and cold-called the principal: "Would Scoil Abán be interested in building swift nest boxes into the new parochial hall?"
"I had to ring, I don't know how many times, but it took a couple of months because obviously, principals are very busy people," Noel said, adding he wasn't sure what reception or interest he would get.
Although Noel has had swift nest boxes set up in his home in the city since 2021, this was the first school he had contacted to see if he could get the nest box project, which is funded by Gas Networks Ireland, up and running.
"I had kind of given up and I said I'd make one last effort, and I rang Conchur one last time to see if I could get to talk to him," said Noel. It was fortuitous that he did because as Noel recounts, when he finally connected with principal Conchur O Luasaigh, his enthusiasm was palpable.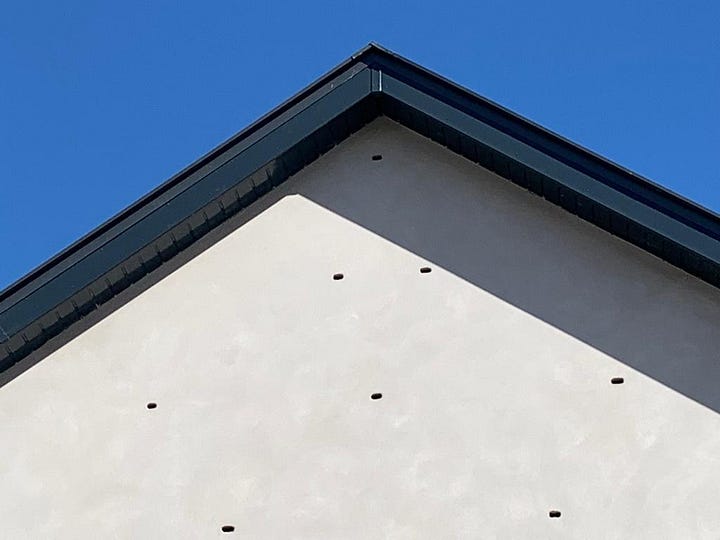 "There was no question he wanted the project, and that was it."
While Conchur was keen, he had to get others on board, including builder Freddie Ó Loingsigh and architect Ger McCarthy.
Noel said that while both of them could have tried to find reasons to knock the project on the head, especially as there is no precedent, as far as Noel knows, with the swift nest boxes built into any other buildings across the county.
But, the construction crew completed their review, gave the project their blessing, and got busy building ten little homes on the side of the parochial hall.
"They deserve a lot of credit because they were taking a chance, and it probably wasn't something in their scope of work," said Noel, praising the fact that all parties could see the benefit of incorporating swift nest boxes into the new building.
A win-win
For Principal Conchur O Luasaigh, Noel made the call at the right time, just as the building was getting started.
"I hadn't heard about the good work being done by Swift Conservation Ireland, so I was delighted with Noel's timing," Conchur told me.
Conchur sees no reason why the project could not be expanded beyond schools to all public buildings.
As he said, the swift boxes have drawn in the local community, who are now on the lookout for the little birds as they make the final leg of their migratory journey to Ireland. Swifts typically arrive here in May, a bit later than swallows, and leave by August.
The nest boxes have also generated huge interest among the students in the gaelscoil located in the Muscraí Gaeltacht to the west of the county. Conchur said the students have "a thousand questions" ready for Noel when he next visits the school, which he plans to do when the first swifts will be in situ.
Conchur said he has seen swifts flying around the school, so it's likely there's a nest near the school grounds. An audio lure is the final part of the jigsaw to be installed on the building; the soundtrack, essentially a looping tape of the swift's song played at a low volume, should alert young swifts to the nest boxes.
"It's a win-win, and the children are delighted," Conchur said. "If we can get a couple of nesting pairs, wouldn't it be lovely to be watching them, especially as they'd be there for life."
To the moon, and back
During conversations about the swift nest box project, one of the questions that arose was the issue of droppings. However, as Noel mentioned, one of the many fascinating facts about swifts is that they are a "clean" bird.
"They don't leave any mess," Noel said, explaining that the adults excrete while in flight and they consume the droppings of the young. "For that reason, people call them 'clean,' but I'm not sure I'd call them that."
Noel could easily fill an hour in conversation about the "amazing facts" associated with the swifts. To be fair, they are some bird.
Here's the condensed version: Swifts are the most airborne of all birds. Once the baby swift leaves the nest, it's completely on its own, making its way to Africa, either with other swifts or alone. It spends the winter in southern Africa and returns to Ireland in the summer, searching for a suitable nest site. If it finds one, it lands and settles in.
"That will have been that swift's first time to land since it left its nest (the previous year)," Noel said.
As Noel recounted, the swifts do nearly everything in flight; they're the only species known to mate in flight, catch all of their food in flight, gather all their nesting materials in flight, drink in flight. They can also sleep in flight.
Spending so much time in flight means that they are very clumsy when they do land, Noel said. In Latin, the birds are known as Apus apus, from the Ancient Greek meaning without foot. Their name in German, Mauersegler, translates to wall-glider. The Irish, Gabhlán gaoithe, links the bird with its wind-like qualities.
Swifts are one of the fastest birds in Ireland and can cover hundreds of thousands of kilometers over their lifetime. As Noel said, swift enthusiasts like to point out that over the course of an average swift's life, they'll have flown to the moon and back (a distance of around 480,000 miles round trip) three times.
There was also a theory in the 19th century that swifts migrated to the moon in the winter. They don't.
But "they fly staggering distances, there's no doubt about it," Noel said.
Swifts in Danger
Perhaps the biggest detriment to swifts' habitats in Ireland has been PVC fascia and soffit, or "the swift killer," as Noel said. He explained that as wooden structures deteriorate over time, they leave little holes and nooks for swifts and other birds to inhabit.
In compairson PVC fascia and soffit is built to last and to keep nature out.
"The obsessive filling of holes and gaps is also wiping out their colonies," Noel said.
Noel recalled passing two swift colonies in a single day in the summer of 2022, and both had been eradicated. "A week before they were there with nesting swifts," he said.
By Noel's reckoning, swifts have disappeared from many towns across Ireland, and there's likely no one factor that points to their population decrease. As he says, with fewer and fewer insects around, there is less for them to feed on.
In its latest report, "Birds of Conservation Concern in Ireland," jointly compiled by RSPB NI and BirdWatch Ireland, the swift was moved from the amber to red list, going from medium conservation concern to high conservation concern.
The report highlighted the loss of many traditional nest cavities in buildings that have been renovated or demolished as a possible reason for the decline of swift colonies, especially as swifts exhibit strong fidelity to nest sites, meaning that they typically return to the same nest site.
But there is reason for hope. A survey carried out last year in Co Mayo found that the population of swifts in the county had increased 23% since a baseline survey carried out in 2012.
"That's strong evidence, at least in Mayo, that what was restricting their numbers and causing their decline was a lack of nest sites," Noel said.
Noel's default personality trait is even-tempered and considerate, but you can hear that waver when it comes to discussing the biodiversity crisis we're living through, and which we're responsible for. But his frustration is also borne by our response or lack of response to the biodiversity crisis.
"The Irish government declared a biodiversity crisis in 2019. It's a simple fix," Noel said, at least for swifts. "You include built-in nest boxes, but that still isn't happening."
Noel welcomed the establishment of the Citizens' Assembly on Biodiversity Loss and, in particular, finding 143, which he can quote almost verbatim:
The State must reform and update the planning and building regulations and legislation to better consider biodiversity in all new developments, with specific evidence-based and locally relevant biodiversity and environmental measures (e.g. inclusion of nesting bricks, restriction of artificial grass, green planting, corridors, sand, and water, etc.).
"The solution has been well tried and tested and has been around for a long time in other countries, and we should be doing it now," Noel said, adding that the pace of change is too slow.
Speaking on the Talking Bollox podcast this month, Tanaiste Micheál Martin admitted as much when he said "we're slow on that" and that we need to move faster in restoring biodiversity.
The Citizens Assembly report on biodiversity pulled no punches when it outlined that the State had "comprehensively failed in relation to biodiversity", and called for a referendum on an amendment to the Constitution to protect biodiversity.
"I've had to give a lot of time voluntarily to make this one project happen, and people might say I'm doing it because I love it, but I'm doing it because I want there to be swifts," Noel said, adding that he's doing it voluntarily because that's a symptom of how undervalued nature is in our society.
But in Ballyvourney, at least, they're making space for a bird that barely lands but needs to nest to continue the circle of life.
---
How to spot a swift:
The swift, similar in size to a swallow but with dark plumage, is a highly aerial bird with weak feet that only allow it to cling to vertical surfaces or shuffle on the ground, and is distinguished by its scythe-shaped wings held straight out from the body, making it one of the fastest flying birds in Ireland. It emits a high-pitched "srrrriii" scream, often given by pairs in high speed chases.
To learn more about the swift including information about building a swift nest box visit Swift Conservation Ireland. Contact details for swift experts can be found at Swift Conservation Ireland.
Bird Watch Ireland also has information about identifying swifts as well as conservation efforts.