Discover more from Tripe + Drisheen
Slow news is good news! An independent, in-depth local journalism newsletter from Cork, direct to your email inbox. Subscribe to support us and help pay for our work.
Over 1,000 subscribers
Shine bright, The Constellation
For more than 100 years, the Blackpool institution has served generations of brewery workers, artists, punters, gamblers, and a man in a cape. But for how much longer will the lights stay on?
The Constellation, on Watercourse Road in Blackpool, is both a sitting room and a pub. Or a sitting room in a pub.
It's set in the old front room of an 180-year old stagecoach house. Back in the day, horses coming from Mallow would be tied up in a laneway at the back - take a wrong turn when going out for a smoke or going to the ladies toilets, and you'll end up in the house. 
The Constellation has been in Geraldine Buckley's family for three generations. The bar opened in one of the most important years in modern Irish history - 1916. Back then, it was a tied house, meaning that it was owned by Murphy's Brewery, which is indicated by the font on the signage above the door.
It didn't come into the Buckley family until a few years after 1916. Geraldine's grandfather, originally from Donoughmore, northwest of the city, leased it from Murphy's when his own pub was burned down by the IRA. In the 1950s, the breweries began to sell off their pubs, and The Constellation came under the Buckley's ownership.
Drapers and publicans do mix
Geraldine comes from a family steeped in the city's old pub trade. Her grandmother owned a pub on Sheares Street called Donie O'Riordans before buying a pub on Merchant's Quay, also named O'Riordans, and eventually selling the latter to Tim O'Riordan. Geraldine's parents moved to England, where she was born, and ran the Globe on Tollington Road in Holloway, in north London, close to where Arsenal play their home games at the Emirates Stadium.
The Constellation now opens four nights and five days a week, with Geraldine running the place with her ex-partner, Dave Finn. Dave works the daytime shift, between 3 pm and 8 pm, while Geraldine works the nights.
Originally from Glasheen in the city, Dave started working at The Constellation ten years ago when Geraldine's mother, Helen, fell ill. What was meant as a temporary measure ended up being permanent. Helen died in 2021.
Dave's family has a background in the drapery trade, and he is related to the Finns of Finn's Corner and the Mannix family. However, drapery never interested him, and after working at The Outpost Bar in Bishopstown, he had a career as an electrician, primarily in temperature control. His work took him everywhere, and he had stints in Germany and England before returning with Geraldine to live in the coach house.
Dave has an avid interest in local history and has sizeable collection of history books about Blackpool, Cork city, and Murphy's Brewery, which sits next door to The Constellation. He is well-versed in the history of the place and has kept all the deeds and records safe. It is one of the only pubs in the city that has retained the original name given to it by Murphy's Brewery, although the origin of the name remains a mystery.
The pub itself is an unspoiled room with the feel of a place where the local community leaves their mark.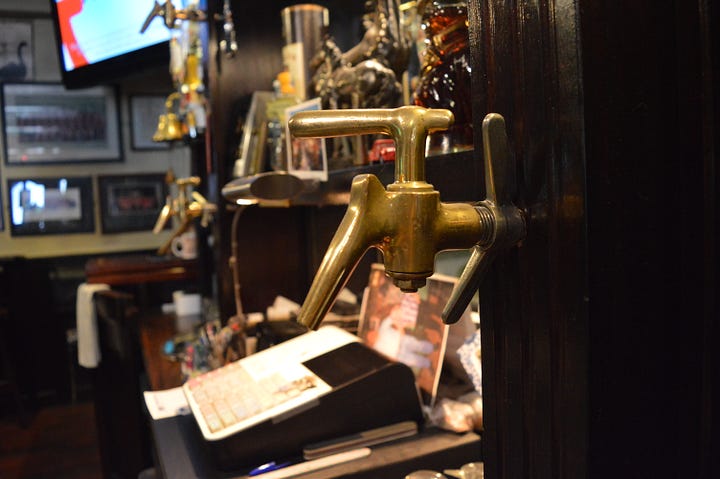 If you look around the bar, a few notable pieces of décor stand out. Four images, sketched by the artist William Harrington, of Cork landmarks, adorn the corners of the pub. An old photograph of the bar, with a man sitting on the steps beside it, looking up, looks over the back of the bar. Called 'Star Gazer', this image was on the front page of The Cork Examiner, a local newspaper. A local man who worked in The Examiner had the idea for a photograph, and called a photographer from the paper to come out and photograph it
"That chap (in the photograph) was from Limerick, and he had sold a farm in Limerick, and unfortunately liked his pints and whiskeys, and he actually ended up down in the Simon Community when it was down on Lower John Street," Geraldine says.
"He's since dead now, but he was a regular here until his last penny I'd say."
Trinkets adorn the pub's mantelpiece, pictures hang about the bar, and a portrait of Geraldine's late father, Christy, graces the fireplace. His generosity was well-known around Blackpool.
"He paid for more weddings around Blackpool; they were called shotgun weddings back then," Geraldine says. "The father of the bride would be here, saying she has to get married, and we have no money."
Christy would stump out, but "they always paid him back, they always did," Geraldine says.
Bacon and cabbage and Cheltenham
The Cheltenham Festival was a massive event in The Constellation, for the punters and for Christy who would be busy over the three days ringing through his customers' bets to a bookmaker he knew. He was generous in the good times too, and he'd have Geraldine cooking for his punters.
"For the three days of Cheltenham, when I first moved in here, he'd have me cooking bacon and cabbage, Irish stew, corned beef and turnip, and I'd serve 50 free dinners each day for the three days of Cheltenham," she says.
"My Mum and my Dad would ask them: 'Did you get enough? Ger, another plate for him!' Your man would be taking it home to his kids!"
Naturally enough, the proximity to Murphy's Brewery meant that stout wasn't the only thing flowing into The Constellation from the brewery; workers too came in their droves, but overtime the flow has slowed down, especially as drink driving laws have caught up with the rest of the world.
"The lads would finish their work in the brewery, they would play cards there, they would come in to cash their cheques, and half of them would be looking for a sub when they'd be coming out the door because they would have lost all their wages in a card game," Geraldine remembers.
"So, my Dad had to ban pontoon. You couldn't let them go home to their wives and kids without their wage packet," Geraldine recalls.
Bar flies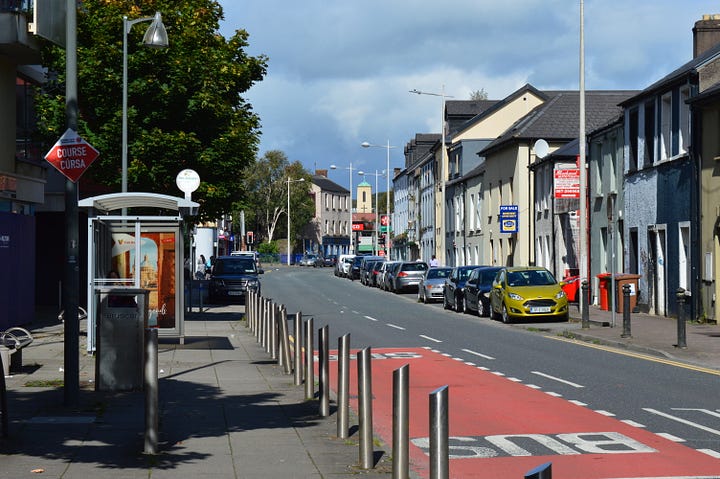 Bernie Murphy, the roguish city councillor, and William Harrington were two notable bar flies who'd come into The Constellation regularly.
"What was told to me about Harrington by Christy Buckley was that Harrington was a talented guy, and the majority of those etchings, when I say he sold them for drink, he gave them to publicans for nothing, for drink. And a majority of the publicans would say 'thanks very much' and give him two or three pints and put them into a shelf under the counter and they got damaged and they got lost," Dave says, about William Harrington who was born near Shandon Street and studied at the Crawford and was mentored by Séamus Murphy.
"Christy had the good sense to go out and get them professionally framed. I'm here thirty years and I'd say they're here another twenty years before that."
Another interesting regular who Geraldine remembers was Jeff Herlihy, a retired postman. Back in the day when the pub would close between 2:30pm and 3:30pm for holy hour, Jeff would refuse to go home.
"He would say to my Dad, because we lived in Glasheen, 'you go home for your dinner and I'll clean up, just open two bottles of barley wine for me', we'd leave those up on the counter. So he'd sweep the floor, clean the ashtrays, clean all the tables, the counter, and when Dad would come back in he'd say 'you're just in time. I need a third bottle!'"
Blackpool is an area of Cork that was strongly associated with industry, with Sunbeam being another major local employer. With the decline of industry, however, came the decline of jobs, and the decline of punters.
"There was one guy", Ger says, "he would have drank here five, six nights a week, he's unemployed now, he only comes in one night a week, and he's on a budget now.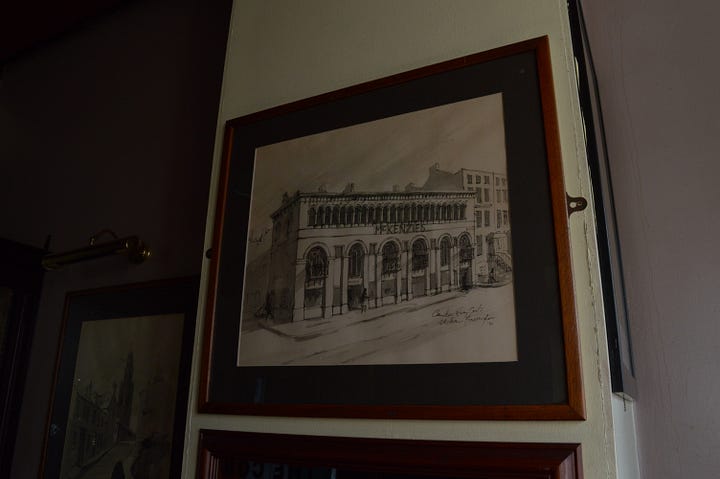 The new crew
Despite the steep decline in the number of brewery workers coming through the doors of The Constellation, there are new regulars, says Geraldine. "Among them are people who are new to the area, living in nearby apartments. We now have punters from Sweden, Japan, and Germany who consider The Constellation their home."
"It's amazing because when I first met a guy from Norway, I was like, 'Jesus, how's he going to fit in here?,'" Geraldine says.
"He's absolutely lovely, but the regulars were looking at him. He wears a big, huge, black hat and a cape. The first time he came in, the regulars were like, 'Here comes Dracula!' And now he's part of the furniture."
"The same with Andreas, he's known as German Andy, he works for Apple. He started coming in here and my mum was working and she sort of minded him, and he's here now 15 or 16 years."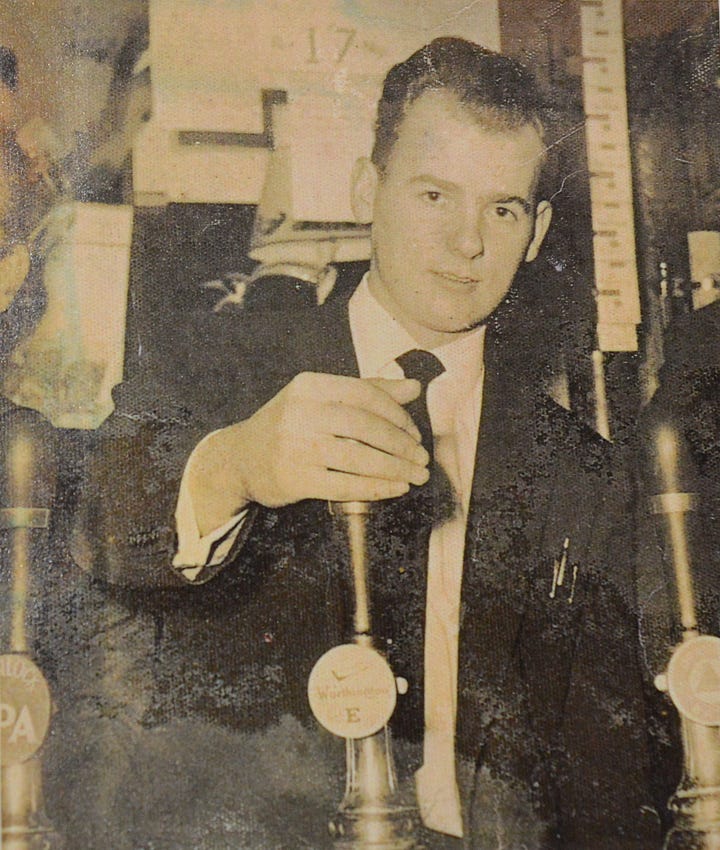 Dave and Geraldine have three children. However, none of them have any interest in taking over the pub. Their eldest son lives in Perth, Australia, and owns a house with his partner, her second son is an electrician, and her daughter is a vet in Kildare. None enjoy bar work.
When her eldest was going to college, he would do shifts for pocket money.
"He would sit there, with a book, I'd go in there and say 'take the bloody book down, you're out here earning money, you have to talk to the customers'".
Geraldine said he didn't like it, but as she told him, "They're paying for you to go to college, so get to like them!"
Her second son has the personality for it, and she got him to cover her when she went to Australia for six weeks. 
"He prefers to be on the other side of the counter," she says, "I said 'Brian, you're going to have to cover my Tuesday night and Thursday night.' He did the first two and hired someone to do the other ones. 
He said 'don't worry about the money, I'm paying them myself', I said 'you had six weeks to cover two nights!', he said 'couldn't bear it.'"
The future of The Constellation is to be blunt, not so bright.
"I can't see it lasting, no," Dave says, "financially it's easy for us, we're at the end of it, done. Kids grown up, all gone to college, paid for, but none of them are interested in it, and you'd have to do a complete revamp of the building."
Dave is equally pessimistic about the future of pubs in general, believing that the glass is half empty. In 2022 alone, 108 pubs went to the wall, with Cork suffering one of the largest decreases, a near 30% drop in numbers since 2005. More than 1900 pubs have closed their doors since 2005.
"It's gone, like, we talk about the lovely old pubs, but the generation coming up don't know what we're talking about. We've had them, we've done them, and it's the next generation coming through. Like everything else, music or drinks or whatever."
One thing is for certain, while the doors remain open and the lights on, and the stout keeps flowing, The Constellation will be a guiding light on Watercourse Road.
---
From the archive: