Discover more from Tripe + Drisheen
Slow news is good news! An independent, in-depth local journalism newsletter from Cork, direct to your email inbox. Subscribe to support us and help pay for our work.
Over 1,000 subscribers
Review: 'Unseen' at Uillinn
Pádraig O'Connor reviews a new multidisciplinary performance from Croí Glan Integrated Dance that pulls together elements of marine life, disability and the environmental crisis. What does it tell us?
All of the important changes that occur in our lives, occur internally, invisible to both our own perception and those of others. But while we may not always be able to verbalise these changes, we can feel their presence. It could be said then that we all carry within us hidden conditions that limit our lives by dint of the very fact of being alive, as this constitutes two things: suffering and malevolence. It is impossible to live in a world where these two forces do not exist, and to even try to eradicate them would be foolish in the extreme.
How then are we to react, if we can at all, when the invisible world causes us so much pain that our outer life is affected in a negative way? Should we resist, go with the flow or is it sometimes possible to take action?  
This question of a reaction is examined in 'Unseen', a new multidisciplinary performance from Croí Glan Integrated Dance Company, created by abstract painter Stacey White and choreographer Tara Brandel. Inspired by invisible forces of nature, both benevolent and malevolent, it aims to bring together three somewhat disparate elements: a fascination with plankton, a focus on the experience of living with hidden disability and a concern about environmental issues.
As the performance begins, the audience are seated in front of a large dance mat, with White hunched over in the corner carefully making watercolour paintings of plankton, while Brandel is at the other side of the mat, slouched against the wall with her eyes closed. Dotted around the wall behind them are many of White's paintings and for the opening few minutes, the audience waited in silence, unsure which performer to give their attention to.
Eventually, Brandel comes to life and begins to contort her arms and legs, folding her limbs in different directions, while ever so gradually her face manages to disappear from view.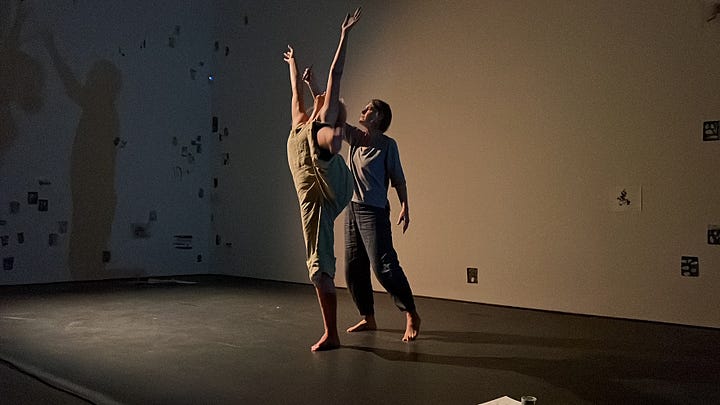 This is a slow paced performance, meditative in parts and one that invites the audience to work and engage their own imagination to fill in the gaps between Brandel and White's sparse movements and the unfolding narrative. This is revealed by some fragmented audio clips, which interject here and there, outlining the role of plankton in the ocean's ecosystem, the ongoing changes to the environment and loosely detailing a hidden epileptic condition and the effect of the treatment thereafter.
On her own, Brandel created some very striking movements, mirroring the plants in the sea being shown on the video projection behind her and as she struggled to her feet, it was as if she had to relearn how she could be herself, within her own body, railing against what was affecting her on the inside. This resurrection saw her move across the floor and with the neat symbol of plankton ever present in the background, the question that came to mind was whether she was being thrown around devoid of any personal control, or was she finding a way of growing into a more fully realized being, capable of giving her life a direction of its own?
The most tender moments however, came when the two performers interacted together, and were literally and figuratively able to lean on one another for support. These were scenes of a very intimate nature and pointed at the strength the piece could've had, had there been more of them integrated into the performance. The emotion on both of their faces and deep connection between them as performers was plain for all to see and it really would've been much stronger had they explored this even further. 
Clearly, this piece meant a great deal to the two artists and by all accounts it had been a struggle to get it in front of an audience. However, there is a thin line between making an extremely personal piece of art and one that doesn't give an audience enough to sustain and nourish its imagination.
When exploring traumatic episodes in life, especially through a mostly non-verbal medium, it really is necessary to give the audience more to latch onto and bring them on that same emotional journey, which they will invariably go on with you, provided there is enough of a path marked out to do so. 'Unseen' needed to show more, but there were certainly moments of beauty that couldn't be denied.
'Unseen' was performed in the West Cork Arts Centre in Skibbereen as part of Uillinn Dance Season 2023, which runs from October 27 to November 5. More information on shows, classes, talks and films here.
Pádraig O' Connor is a writer based in Cork City.
---